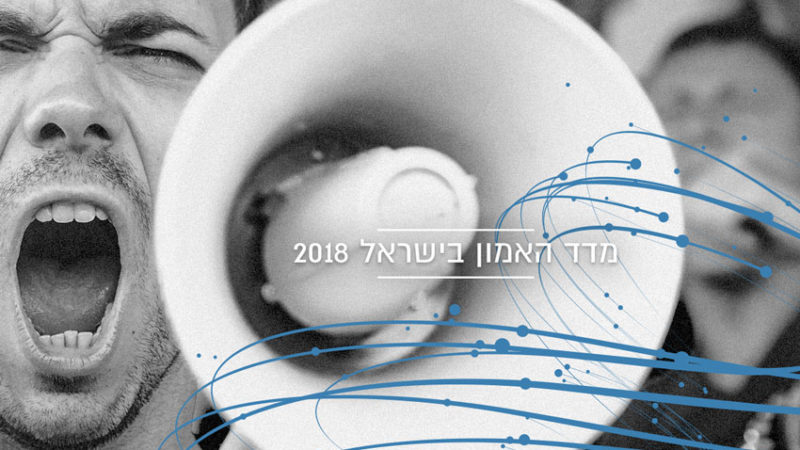 Debby Group Launches the Israel Trust Barometer for 2018
November 12, 2018
With humanity on an information binge, consuming ever-increasing quantities of facts and figures at dizzying speeds, the phenomenon of fake news has become commonplace. The big question is whether the public wants an objective news report or do they prefer getting information from a source that reflects their own opinions?
Globally, consumer confidence in the four major public institutions of the international community is at an all-time low. According to Edelman's Global Consumer Confidence Index for 2018, only 43% of the public have confidence in the government, 43% have confidence in the media, 52% in the business sector, and 53% in the non-profit sector.
When the public loses faith in mainstream media, they redirect their search for information to Facebook and Google. But these platforms are constantly rearranging and optimizing content to suit each user's personal views and preferences. This results in what is known as the "resonance chamber effect," which amplifies one sound wave, covering up the complete melody.
Absurdly, most of the public, 56%, tends to believe news posted by friends and acquaintances more than it does statistical studies and analyses published on the same platform. In Israel, approximately two thirds of the population, 56%, thinks that content on social media is more reliable than news reports on television and 44% consider social media content more reliable the print media content. More people, 54%, trust information reported by ordinary citizens than information reported by professional journalists, which only 46% of respondents trusted.
It's interesting to note that unlike the rest of the world, Israelis have more confidence in the media than they have in the government, with the following confidence levels:
Non-profit sector: 50% (compared to 53% in 2016)
• Business sector: 47% (compared to 46% in 2016)
• Media: 39% (compared to 35% in 2016)
• Government: 28% compared to 26% in 2016)
Global research shows that the loss of our ability to distinguish between truth and non-truth poses a real threat to the existing structure of society. It calls into question the ability of the governments and public entities to control and maintain dialogue with the people as well as on the media's ability to criticize and influence the public agenda.
So the business world is looking at a great opportunity.
We conducted a study which revealed that if companies and brands hope to build confidence among the Israeli public, they must change how they communicate with consumers. Even if the content is truthful and valuable, today's consumer has little respect or patience for old-school static monologues on the merits of a company or brand. Consumers today are looking for companies and brands that offer real solutions by integrating their core business activities into the dynamic context of consumers' daily lives. According to the study, consumers are now suspicious of community or environmental initiatives that had enjoyed great consumer confidence in the past.
Consumers are more likely to develop confidence in brands that:
• Are attentive to their needs (68%)
• Promote fair treatment of employees before chasing profits (62%)
• Take responsibility for unexpected events or crises (61%)
Essentially, my yardstick for building trust is by examining what's in it for me.
These fundamental changes in information consumption, communication platforms and consumer expectation are what prompted the Debby Group to introduce a new influence model that integrates public relations, digital strategy and media promotion. The combination of these three pillars of influence enables us to: reset consumers' brand confidence; pinpoint the most relevant media narratives that rise above the noise; build adaptive strategies for a changing environment; and measure the real impact of every campaign.
Feel free to read, process and share your insights on the research we've attached here, research that we have confidence will guide our activities over the coming years. Together we can create innovative and groundbreaking media campaigns that rebuild confidence.